Begin Walkthrough
During its eleven-year run, the IG in IGTimes referred to a number of titles, including International Graffiti Times, The International Get Hip Times, T.I.G.H.T., and The Intergalactic Times. Whatever one called it, IGTimes was the godfather of all writing magazines. NYC street photographer David Schmidlapp started the magazine in 1983 and joined forces with artist, writer, and Bronx native Phase 2 on volume 8 in 1986. Together they produced the first magazine to focus on New York's subway art and youth culture, ultimately rejecting graffiti as a term imposed on a vital art movement by a greedy media.
Until volume 7, which was released in a newspaper format with a masthead reading The Subway Sun, most early volumes were folded like a New York City subway map. Schmidlapp printed these first issues in limited palettes of only two or three colors, with duotoned or black-and-white flicks of pieces anchoring handlettering and tags, illustrative and collage elements, and rough-rag typed text blocks. The result is a cohesive chaos.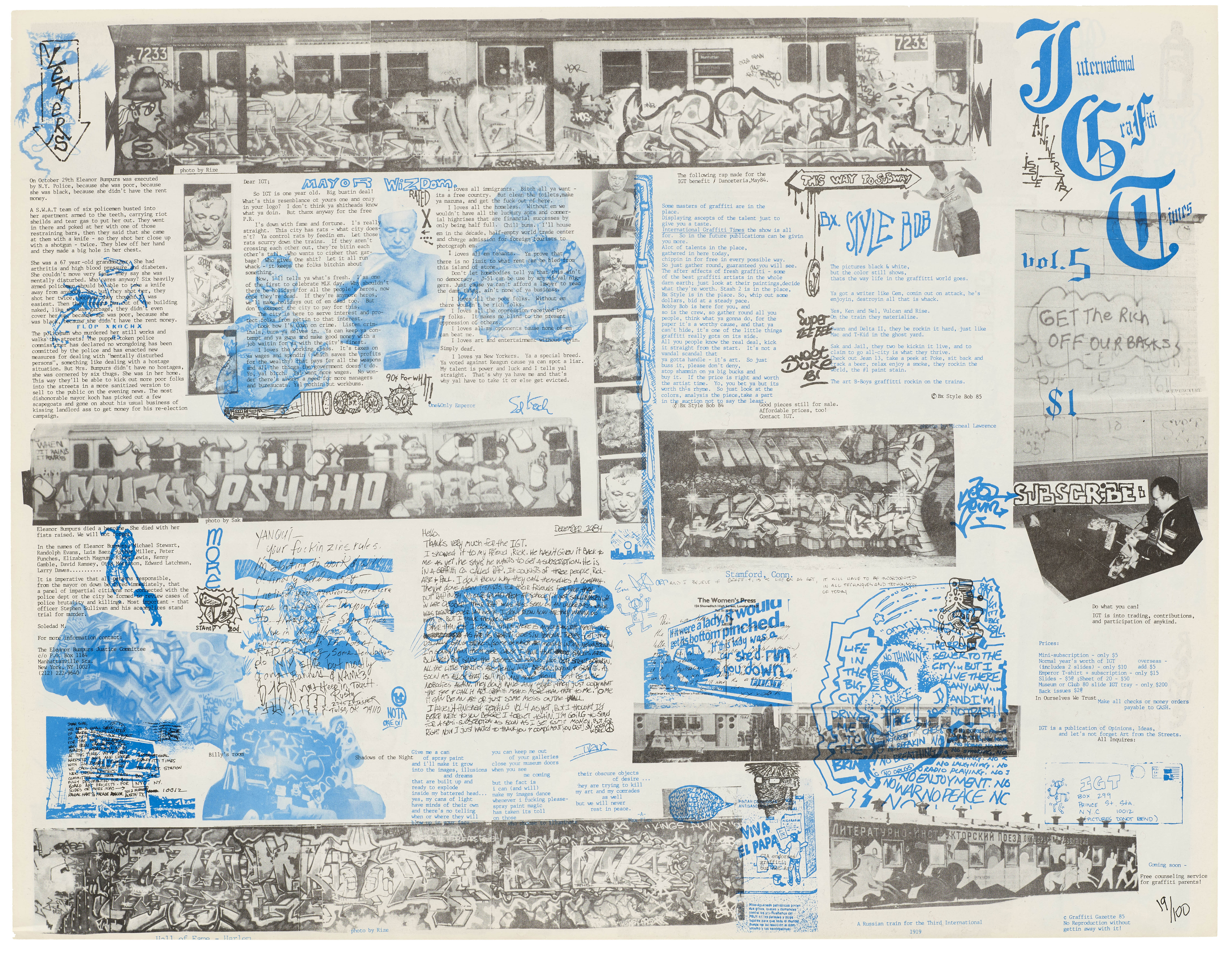 When Phase 2 joined, he initiated even more sophisticated collages and, as the project grew, multipage, full-color releases. Using thick black rules and dynamic framing devices to border text on issues like police brutality, the right to bear arms, and apartheid, his layouts thoughtfully disregarded margins, with imagery and text sliding across and exploding off the page. Phase 2 incorporated countless visual elements that would be adopted by future zine makers, from shaped collage to map-backed assemblages. Schmidlapp and Phase 2's collaboration set the stage for the subway zine movement of the 1990s. Despite its small print run, the zine was sought after by writers across the United States and Europe. The publication's unapologetic inconsistency in name, trim, and format also gave future zines free reign to follow suit.
More Walkthroughs
Explore the exhibition through video and interactive close-ups of selected objects. More walkthroughs are coming soon. Sign up to be notified.